Below is a sampling of the industry accolades and 5 Star Yelp reviews Wes and Dom have garnered over the last 6+ years. These raves spotlight the talent, style, and professional approach the two bring to every event. Browse GoodMood's Yelp Page, or view even more reviews from their pre-GoodMood days by clicking here: Wes and Dom
QUOTES & WORDS FROM AMAZING COUPLES
"When it came to the day of the event, everything went more smoothly than I could have even hoped for... And everyone was complementing us on both the cocktail hour playlist, as well as the dancing playlist. The dance floor was NEVER empty during our entire reception! What more could you ask for. I would hire Dom again in a heartbeat." - Aly
(Calamigos Ranch, Malibu - Yelp)
"...Your wedding is one of the most important days of your life and as everyone knows music plays a major role in the success of the wedding. Wes is Michael Jordan - came through, never a doubt, nailed it with a smile on his face - with some swagger. He brought the tent down for almost 300 Jewish and Chinese people (good luck with that crowd). Hire him. Quickly. You'll be glad you did." - Phil S.
(Klentner Ranch, Santa Barbara - Yelp)
…From the early planning to the day of, communication was solid and easy going. We felt totally in sync with Good Mood.
Dom really brought the party.
He reads the dance floor, understands how to flow from one vibe to the next, and does so with style.
We couldn't recommend Good Mood more!
Thanks guys!
-Riley (Yelp Review)
Wes was amazing from start to finish. My wife and I are pretty relaxed about most details until you get just below the surface where I'm a control freak and she's a worrier… [But] the day could not have been more perfect, I'd go so far to say that the entire process from selecting Wes all the way through the very last song was... I mean, saying "perfect" has almost been cheapened by online reviews but I couldn't possibly think of one single complaint. I know that everyone has heard other people say "my wedding was the best night of my life," and I'm now one of those people.
- Colin (Yelp Review)
Meishya & Dan - 2013 (Yelp Review)
DJ Wes, you had me at "Heartbeats."

Music was a really important part of our wedding, and we wanted to make sure we found the right DJ who was on the same wavelength with us in setting the right party mood from the guests' arrival to cocktail hour through dinner and dancing. From the moment we heard his "It's Just Another Excuse" mix and after our first meeting, I knew DJ Wes was our man.

Throughout the planning process, Wes was professional, prepared, responded promptly to emails, and always made himself available for any questions we had. He was incredibly helpful in getting us on the right track in our wedding timeline and had great suggestions for songs to play at certain highlights of the evening. At the wedding, he was prompt, played everything right on cue, announced everything perfectly on schedule, and kept a great vibe going all night long. I remember thinking half the night, "I love this song!" So many guests came up to us during the evening and well after the wedding to say how awesome DJ Wes was. And on top of that, Wes is just a down to earth, laid back, fun person that we have had the pleasure to get to know.
Wes brought so much warmth and happiness to our special day. The dance floor was on fire all night! We HIGHLY recommend! Thank you so much Wes for being the best of the best and going above and beyond!
- Michelle (Yelp Review)
"A friend of mine had been to three weddings in a week, culminating in our wedding on a Sunday night. His direct quote:"I never knew that a DJ mattered so much until I went to these weddings. Your DJ (Dom) was far and away the best!" Other comments from guests included: "Your DJ is killing it" and "What company did you use and do they travel to Orange County?"
- Kimi (Yelp Review)
AMANDA & ZACH - 2017 (Yelp Review)
"Where do I start.... My now husband and I are still in complete awe of how well DJ Dom truly new what we wanted and was able to exceed all our expectations on our November 17th wedding! After our wedding, I had multiple guests beg me to reach out to him and ask him for our music playlist; which he graciously gave to us to share. DJ Dom did not miss a beat (no pun intended) with all our crazy requests and knowing what songs to play to keep my guests on the dance floor. The way he is able to blend songs into one another is the absolute best I have EVER heard and I would give anything to relive my wedding just one last time. If you are reading this and are on the fence about who should DJ your wedding, please take it from me and know that DJ Dom is who you are looking for.

DJ Dom, thank you so much for being part of our special day and creating a dance floor that ALL my guests can't stop talking about. I hope to work with you again in the future! We had the time of our lives.
Thank you!"
I cannot thank Dominic enough for being so awesome at our wedding!!! So glad my wedding planner recommended Good Mood because it was probably the best decision I've made. He had the dance floor packed the entire night, and apparently multiple guests have told me days later that people who don't normally dance or claim they don't know how to dance (this includes my mother in law) were out on the dance floor!!…If anyone is planning a wedding you can't go wrong with Dom from Good Mood!
-Hannah (Yelp Review)
"...We had 200 guests and they LIVED on the dance floor all night long. Wes found a way to mix hits old and new to keep everyone engaged and dancing the whole time. What surprised me most was how he was able to do this, while keeping the setlist incredibly personal to my wife and I... It was incredible. Wes was incredible. We can't recommend him highly enough!" - Matt S.
(Hummingbird Nest Ranch, Simi Valley - Yelp)
…DJ Dom is just a good dude. My wife and I got the sense that he genuinely cared to put on a good show for us and our guests. He never came on too strong with his recommendations, but he also had some good suggestions when we needed them. You could just tell that he knew our wedding day was a very important day for us and that he was willing to work with us in making sure that we threw a good party for our guests. We would recommend DJ Dom to anyone. He will work with you to make the party rock!
-Charlie (Yelp Review)
Jess & Gil - 2014 (Private Estate Wedding, Los Angeles - Yelp Review)
Whenever we tell anyone about our wedding the first thing we tell them about is WesLee. We LOVE him and all of our attendees loved him as well.

We had a very informal wedding with food stations instead of a sit down dinner and the layout was pretty funky. WesLee came to the venue prior to help us decide on how many speakers we would need, where they should go and to get a feel for our musical interests. We only gave him a few songs that were must plays but he was so in tune with what we wanted that he was able to put together an entire evening of PERFECT songs. There were times when wejust looked at each other and said "How did he know we LOVE this song? He's F***ing Killin' It!". His mellow vibe and knowledge of music made us instantly at ease and as a result we had one less thing to worry about.

While waiting to walk down the aisle the music he was playing put me at ease and I knew the night was going to be perfect. While taking photos we could hear the music playing and actually stopped taking photos early to get to the dance floor. When we arrived people had already started dancing. He was able to get EVERYONE, the groom's dad who doesn't dance ever, the 20 somethings and the 60 somethings on the dance floor. Our family and friends are huge lovers of music and he was able to handle all of their requests with a smile on his face and seamless transitions. Not to mention he was an incredible MC, able to keep the flow moving naturally and on schedule. He was also very flexible, staying an hour past our original scheduled end time. There were multiple guests(one who himself is a DJ in SF) that came up to us professing their love for him.

His energy, ability to read the crowd and his presence made our wedding the best party we have ever been to.

I have already recommended him to a few people getting married in the LA area and if we happen to be in the area and need a DJ there is no one else I would hire.
JENNI & TAYLOR - 2017 (Yelp Review)
"Dom deserves more than 5 stars! He was so incredible to talk with about the wedding day and how we wanted it to flow, he made what we talked about happen! To me music is such a major part of any party, his ability to read the dance floor made the dancing not stop till the end! He had some incredible suggestions for us as we didn't want some of the traditional wedding day festivities. From the moment the music started as guests were arriving till the last song his choices kept a happiness in the air that matched our day! I am so grateful to have found Dom on yelp!"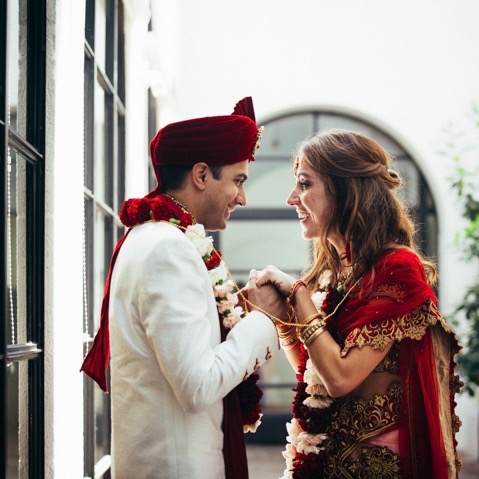 "...Our planning calls with Wes felt like talking to a good friend (a friend that's wayyyy cooler than we are). Wes will take as much or as little guidance as you want to give him; my husband and I love music, but our favorites aren't really dance-floor-friendly, so we gave Wes mostly free reign over the playlist. The cocktail hour and dinner music were perfect (I'll never forget our whole head table singing along together during the meal), and once the dancing started, it never stopped. By the end of the night people of all ages and cultures (we were a multi-ethnic wedding) were a sweaty, happy, mess."
- Allyse B.
(Vibiana, DTLA - Yelp)
NICOLE & YOSEF - 2017 (Yelp Review)
"Dom DJed our wedding (ceremony and reception) in July 2016. He was absolutely fantastic, we cannot recommend him any higher. We challenged him with three separate spaces for the ceremony, cocktail hour, and reception - and he did an amazing job quickly setting up and providing the perfect music in each spot. Let me tell you what, when you have a good DJ, people aren't commenting about the music, they are either dancing, sitting and resting their feet, or taking a cake break. When you have a bad DJ, people are standing around, talking about the weird music. We have all been to that wedding with the awful DJ that plays crappy music, or tells stupid jokes or has the quietest voice. We had THE BEST DJ. He was really nice and fun with our guests, several of which commented to us what a cool guy he was. He also has a great voice, and a good way of speaking that gets people doing what they should be and moving the party along. You have to remember that your DJ is usually also your Emcee, so they aren't just playing music they are making announcements and introductions.

Before the big day, he took the time to meet with us over skype a couple of times, so that we could give him a sense of what kind of music we liked. He walked us through the process, and told us what kind of music we needed for when, and gave us suggestions when we needed them. We had some specific song requests, and some cultural music we wanted to be played, and he incorporated those requests flawlessly. Aside from the songs we created on playlists for him, and our specific requests, we let him take the reins and add in anything else he felt was a good fit, and gave him control of what to play and when. He worked seamlessly with our wedding coordinator (which is SO important because those two people are running the show on the big day, they need to be on the same page about timing regarding moving people to a different area, speeches, dance time, other announcements etc.). He sent us the sweetest, loveliest email after our wedding thanking us for a great day. So this is our thank you back to him. Thank you so much DJ Dom, we loved having you as our wedding DJ!!"
"...Wes was attentive to our needs, made himself available anytime, and inspired confidence that the evening would go great. Of course he was right! He gave my wife and I an evening we will never forget, and all 100 of our guests agree. He is calm and cool when speaking on the microphone and when it was time to get the dance party started he brought the house down. Seamless mixing and the proper selection of tunes combined to create an atmosphere everyone hopes for at an occasion like this, and Wes hit it out of the park!" - Brein S.
(Firestone Vineyards, Santa Barbara - Yelp)
"...Wes is easy going, cool, makes everything run smoothly and has an amazing ability to carry any music taste you want throughout the whole evening, from dinner to tearing up the dance floor. He also tactfully navigated my annoyingly persistent (and drunk) high school friend who kept pushing bad requests. Everyone from my mom to my friends kept commenting on how great he was. Thank you for making our wedding such an unforgettable event! I could not possibly recommend you more highly! "
- Mara G.
(Refugio Ranch Vineyards, Los Olivos - Yelp)
Please note: GoodMood is providing information about Wes and Dom's past work as independent contractors in the private event and wedding industry. GoodMood is in no way associated or affiliated with any DJ company or companies that Wes and Dom have worked for or with in the past as independent contractors. FurtherMORE, GoodMood is in no way associated or affiliated with any company or companies that may appear or be named in the articles linked to via the GoodMood website and press page.